Discussion Starter
·
#1
·
Since there's no "How to" section on this forum, I'll just post this here. Admin, please move if there is a better place for it.
This is a simple how-to guide to install Honda OEM cargo hook. Usually I drive fairly gently, but even then, I find my groceries to be scattered around all over the trunk by the time I get home. :sad:
To prevent this, many cars have hooks installed in the trunk so that you can hook your grocery bags to prevent spillage. I was dismayed to find none in the Clarity. After a quick search, I found that Honda makes OEM hooks! Sites like Amazon will tell you that it will not fit; however, I can confirm that it most certainly does. The part number is 08L96-TA0-101A. Less than $10.
If you search on the internet for installation instructions for this part, they will tell you that you need to purchase a specialized Honda Tool 07AAE-000A100 for something like $80+ (that you would never use again for anything else). With little creativity, however, this tool is unnecessary. I will show you the steps below.
First of all, this is the part number:
Here is what the "hook" looks like: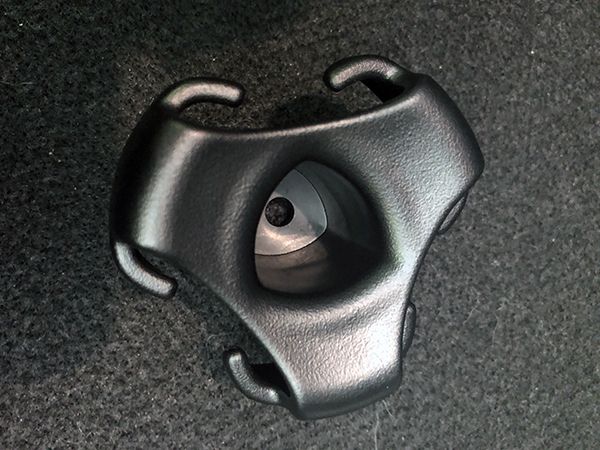 The official instructions will tell you to insert this special rivet into the vehicle with the aforementioned specialized tool. However, I've decided to mount it using the supplied washer and nut rather than the rivet.
In order to make the installation easier, I glued the washer to the nut, as shown. This step is optional, but as it would become evident later, I think it made the job easier.
The hole where the cargo hook mounts to is the one with large hole with smaller "satellite" hole located where the pin on the hook aligns. Since there are no adjacent holes that are large enough to squeeze your hands into to hold the nut steady, I've employed handy dandy vice grip to hold the nut in place while giving me enough leverage to hold the nut steady.
You then navigate the vice grip through the existing holes and place the nut so that the thread aligns with the larger hole, as shown: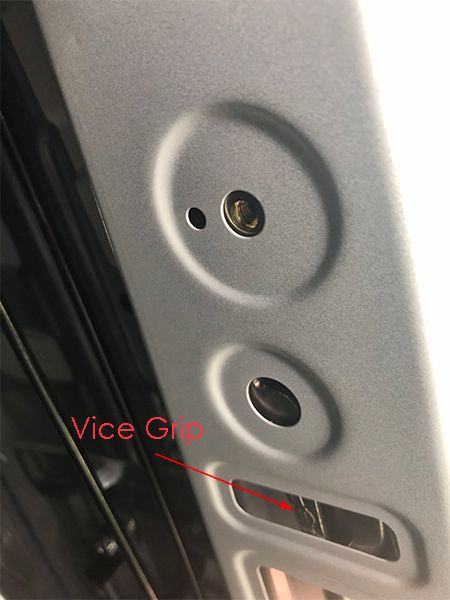 Then you thread the bolt by hand into the nut--this part is a little delicate, since you don't want the nut to move until the bolt "catches". Once you've successfully threaded the bolt, take the ratchet wrench and tighten the bolt. You might need to hold onto the vice grip. Also, since you're screwing in a plastic part, you don't what to torque it super tight. Just use common sense. After the bolt is tightened, release the vice grip, and carefully take it out.
And here it is, fully installed:
The whole process only took about 10 minutes, and that's with me taking pictures. Pretty easy!